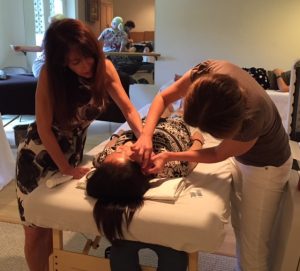 By Michelle Gellis, AP LAc MAc DiplAc.
Facial acupuncture classes … lots of folks are offering them these days.
The cost for typical 2-3 day facial acupuncture class can be substantial. Before you enroll, here are 10 things to consider before signing up for a facial acupuncture class:
Is the instructor certified by the American Acupuncture Council?

If AAC is your insurance company, you must be trained by an AAC certified instructor for coverage. You can contact AAC for the most current list. Even if AAC is not your insurance provider, you may switch in the future, and being trained by an AAC provider lends some credibility to your skills.

What is the average facial acupuncture class size?

If the teacher to student ratio is too large, you will not get the supervision necessary to monitor new skills being taught.

What are the instructor's credentials?  

What is their teaching experience, where, how long?  Are they published? Is their degree in acupuncture or another field?

Is it a hands-on class?

You should be able to practice what you learn, with special emphasis on new techniques and skills.

Will supplies be provided or charged for separately?

There should be no hidden costs. Everything you need to practice in class should be supplied. Some instructors sell their own product lines or add-ons, and classes can become very 'product centered.'

Is the system something that is easily learned?

Techniques that are complicated or overly time consuming are rarely implemented after you leave the class. Speak to folks who have studied with the instructor.

Is the class comprehensive?

Will you need to take a follow up or advanced class before you can practice the techniques?


How much time will there be to practice?

There should be ample time allotted to practice new skills.

What CEUs are attached to the class?

How many, and for which states.

What is the cancellation policy?

If you cannot attend, can you use the tuition towards another class in the future or is the money lost?

Michelle Gellis demonstrates Facial Acupuncture

Michelle Gellis, AP, M.Ac, DiplAc., L.Ac has been teaching Facial Acupuncture classes since 2005.  She is a Faculty Member and Clinic Supervisor at the Maryland University of Integrative Health. She has been published in the Journal of Chinese Medicine, Acupuncture Today and The Acupuncture Desk Reference. To learn more about her classes, please visit our registration page.