Subscribe to our mailing list for updates.
Advanced Certificate Program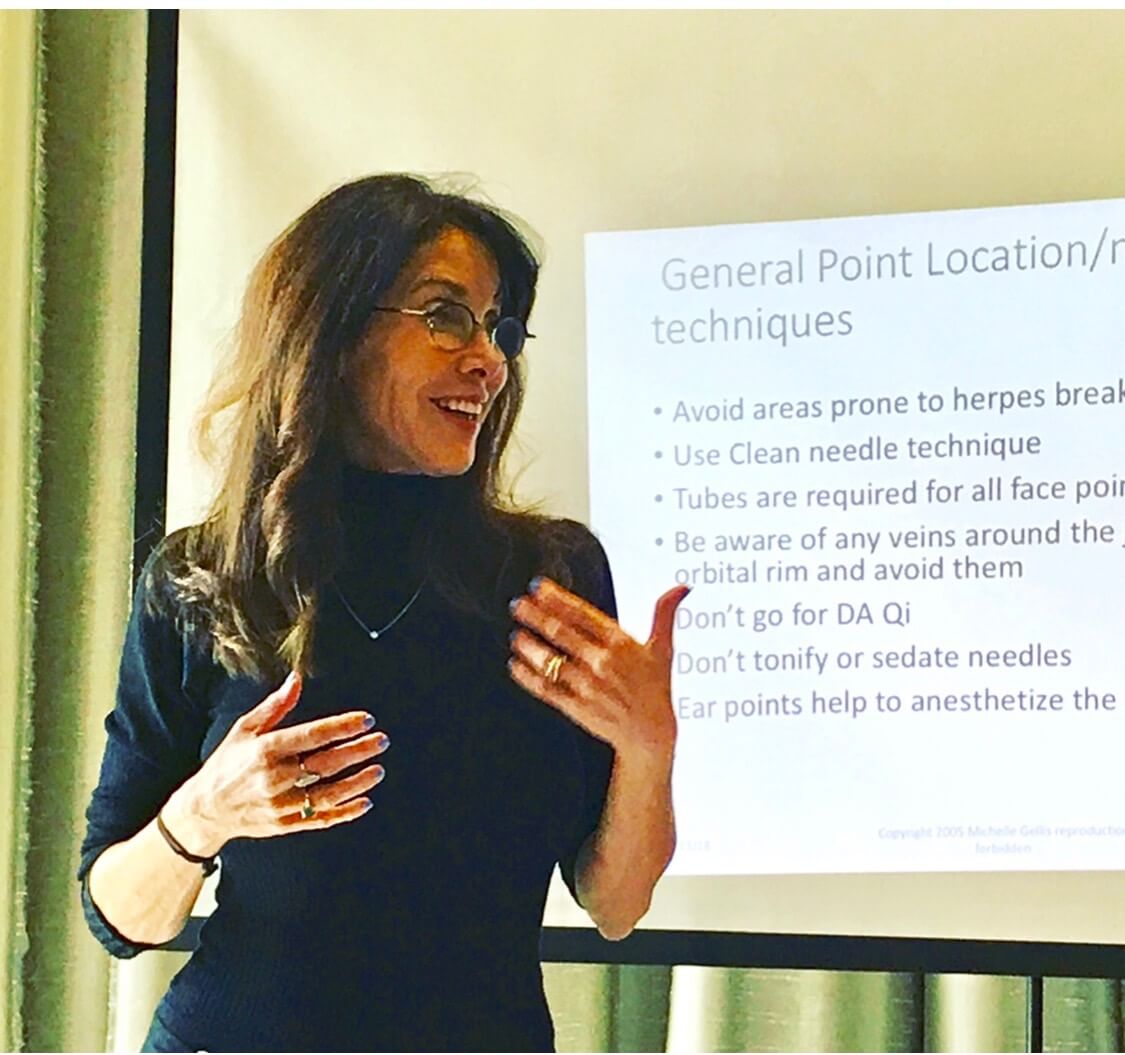 Michelle Gellis' new Advanced Certification program is designed for licensed acupuncturists and medical professionals trained in acupuncture. Earn acupuncture CEUs while learning new protocols for facial and cosmetic acupuncture, facial cupping, gua sha, and microneedling. After completing all components of this one-year course, you will be equipped with the knowledge and skills to bring facial acupuncture to your patients in a safe, effective manner. The skills you learn will bring immediate value to your practice. Click here for details and to register. →
---
Live In-Person Classes:
Notice for Live Classes: All hands-on classes require KN-95 or higher mask AND proof of vaccination or negative Covid test less than 48 hours old.
New hands-on format for 2022!
For 2022, Michelle will be offering ONE DAY live hands-on facial acupuncture training for individuals who have completed prerequisite instruction via recorded or livestream webinar, or who are participating in the year-long Advanced Certificate Program. Dates and locations are listed below. Class starts with 2 hours of review/Q&A, with the remaining time devoted to hands-on needling practice. See prerequisites and register here.
February 6, 2022 – Gainesville, FL – Dragon Rises College
March 20, 2022 – Scottsdale, AZ – Courtyard by Marriott Old Town
May 1, 2022 – San Diego, CA – Hotel Republic San Diego
May 22, 2022 – Chicago, IL – Springhill Suites by Marriott O'Hare
June 19, 2022 – Maryland (location TBD)
June 26, 2022 – Edison, NJ (location TBD)
August 21, 2022 – Seattle, WA – Courtyard Seattle Downtown Pioneer Square

August 28, 2022 – Calgary, AB – Marriott Downtown
September 25, 2022 – Boulder, CO – Boulder Marriott

December 4, 2022 – Sarasota, FL (location TBD)
---
Mentoring Sessions:
One-hour monthly Q&A sessions with Michelle. Included with the Advanced Certification Program and open to all for $30/session. Click here for dates/topics and details on how to register.
---
Livestream Webinars:
No livestream webinars currently scheduled. Subscribe to our mailing list for updates.
---
On-demand Recorded Webinars:
Please note that there are NO REFUNDS on recorded webinars.
Select any webinar for a full description and purchase options. All webinars are available with and without CEUs, with a discounted rate if you choose the "no CEU" option. PLEASE NOTE: Recorded webinar content is available for 90 days after purchase.
No refunds on recorded webinars.