If you have already enrolled, log in to your account to view your content.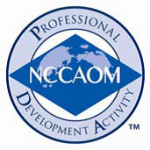 EARN up to 90 NCCAOM, California and Florida CEUs including Ethics and Safety
Enroll in Michelle Gellis' Advanced Certification program to earn acupuncture CEUs while learning new protocols for facial and cosmetic acupuncture, facial cupping, gua sha, and microneedling. After completing all components of this course, you will be equipped with the knowledge and skills to bring facial acupuncture to your patients in a safe, effective manner. Facial Acupuncture for cosmetic enhancement and treating neuromuscular facial conditions will be taught. The skills you learn will bring immediate value to your practice.
PLEASE NOTE: This in-depth program is designed for licensed acupuncturists and medical professionals trained in acupuncture, NOT those only trained in "dry needling". You must be licensed to practice acupuncture in order to participate in hands-on practice.
This comprehensive facial and cosmetic acupuncture program includes
Access to Michelle's full suite of recorded CEU webinars including lecture videos, demos, and handouts:
Admission to one of Michelle's hands-on practice locations (see venue details on hands-on class page):

December 2-3, 2023 – Sarasota, FL
January 13-14, 2024 – Hollywood, FL
February 2-4, 2024 – Sydney, Australia
February 9-11, 2024 – Melbourne, Australia
April 2024 – TBD
May 11-12, 2024 – Los Angeles, CA
May 18-19, 2024 – Vancouver, BC
June 22-23, 2024 – Boulder, CO

Not sure which hands-on class you wish to attend? No problem! You can choose your class at a later date, just contact us with your request. For students unable to travel to a hands-on location, virtual evaluations are available. Contact us for more information.

Monthly, one-hour online mentoring sessions with Michelle

See this page for dates, times, and topics
Video recordings will be available after each session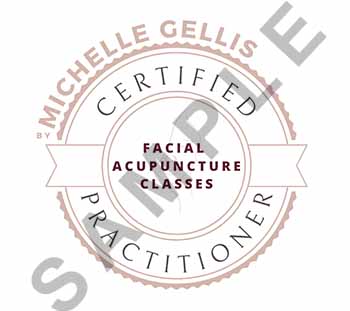 Once you have completed all the components, you will have earned a total of 90 CEUs, and will receive a printed certificate and an Advanced Training Certified badge for your website/marketing.
Cost: $1,925
NO REFUNDS.
You will be required to create an account when you check out—with this account you will be able to view the program content. After passing each recorded webinar's quiz, you will receive your CEUs via email within 3–5 business days. Your live CEUs will be awarded after you attend your hands-on session. If you cannot attend your chosen hands-on session, you may switch to another location.
3 easy steps to enroll in the Advanced Certification program:
2. Click one of the hands-on sessions below to add it to your cart (cost of one session will be deducted from your total):
Not sure which hands-on class you wish to attend? No problem! You can choose your class at a later date, just contact us with your request. For students unable to travel to a hands-on location, virtual evaluations are available. Contact us for more information.
Notice for Live Classes:
For hands-on classes, Masks while treating fellow students are optional, but recommended.
FAQ for Michelle Gellis' Advanced Certificate in Facial Acupuncture Program
Q: WHAT SUBJECTS WILL BE TAUGHT?
A: The curriculum covers:
Basic Cosmetic Acupuncture — theory, protocols, techniques and precautions/contraindications
Advanced Facial Acupuncture — protocols for difficult conditions and treating the neck
Facial Cupping and Facial GuaSha — all of the protocols and skills you will need, including how to use the tools properly and which tools are best.
Derma rolling — how to incorporate it into your treatments
Skin care 101 — to share with your patients including products which works seamlessly with your treatments
Treating neuromuscular facial conditions — such as Bell's palsy, TMJ, trigeminal neuralgia and others
Scalp Acupuncture — for treating neuromuscular facial conditions
Facial Motor Points — for neuromuscular and cosmetic applications
Submuscular needling — techniques unique to Michelle Gellis for treating stubborn conditions
Facial acupuncture self care for acupuncturists — so that you can look and feel your best
AcuLift™ Microneedling — comprehensive microneedle training designed specifically for acupuncturists
Safety — treating the face is unique and safety is of the utmost importance
Ethics – ethics in facial treatment and business practices
The anatomy of expression — learn how our emotions affect our face and how our facial expressions affect our inner world
Chinese face reading — learn the art of Chinese face reading from Dr. Cameron Bishop
Spirit of the points on the face — with Lonny Jarrett
Q: HOW DOES THE PROGRAM WORK?
A: Once you enroll you will choose a hands-on class to attend. You may watch the prerecorded webinar videos on-demand, on your schedule. Monthly discussion/mentoring session will be held online.
Q: DO I NEED TO FINISH ALL THE CLASSES TO GET MY CEUs?
A: No. As you progress through the program you will accumulate your CEUs.
Q: CAN I TAKE THE PROGRAM IF I HAVE NO FACIAL ACUPUNCTURE EXPERIENCE?
A: YES! The course is appropriate for acupuncture students (clinic level) and above as well as licensed acupuncturists. Licensed acupuncturists will receive CEUs in addition to the certificate after completing the full course; unlicensed students will be able to receive the Advanced Certificate if they can complete their licensing and take the hands-on portion within the year. All students will be able to participate in the monthly mentoring session with Michelle.
Q: ARE ALL CLASSES TAUGHT BY MICHELLE GELLIS?
A: Not all classes. There are guest speakers such as Lonny Jarrett, (spirit of the points on the face), Cameron Bishop (Chinese face reading), and Dr. Kym Caporale (microneedle skincare products).
Q: ARE THERE STUDENT DISCOUNTS?
A: There are no student discounts for the full program, however, we do offer student discounts those who would like to attend/observe hands-on sessions.
Q: I'VE ALREADY TAKEN ONE OR MORE OF MICHELLE'S CLASSES, CAN I STILL PARTICIPATE?
A: OF COURSE! As a former student of Michelle's you will have an opportunity to watch the lectures and videos over and over again to acquire new knowledge, and CEUs.
Q: DO I RECEIVE A DISCOUNT ON THE ADVANCED CERTIFICATE PROGRAM IF I HAVE ALREADY COMPLETED ONE OF THESE CLASSES WITH MICHELLE IN THE PAST?
A: Michelle will be offering discounts on a case-by-case basis for her previous students. Please contact Michelle directly at: michellegellis@gmail.com. Please include which class(es) you took and when/where.
If you would like more information on the program, please use the "contact us" box on our website and we will get back to you promptly.