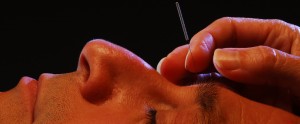 Cosmetic Acupuncture as an alternative to Botox®

Michelle Gellis, LAc MAc DiplAc
In recent times Botox has been used to treat a myriad of conditions. From wrinkles to headaches, overactive bladder to overactive sweat glands, the medical community has been finding new and innovative uses for Botox®.  Acupuncture has been used for over 3,000 years to treat many physical and cosmetic conditions as well. The benefit to cosmetic acupuncture is there are no dangerous side effects or disruption to the body's natural functioning.
In order for a muscle to contract it must receive a chemical messenger (acetylcholine) from a nerve. This happens at the junction where the nerve ending meets the muscle. When Botox® is injected, the botulinum toxin prevents the release of acetylcholine which paralyzes the muscles, preventing it from contracting. In the case of a wrinkle, the relaxed muscle creates smoother surface for the skin to adhere to, thereby temporarily reducing the appearance of a wrinkle. Botox® is most often used on forehead lines, crow's feet (lines around the eye), and frown lines. Wrinkles caused by sun damage and gravity will not respond to Botox®. The effect of Botox® injections last from 3-4 months, at which time they must be repeated.
The side effects of Botox® have been well documented and studied and vary from person to person. Some of the documented side effects include: allergic reactions, rash, itching, headache, neck or back pain, muscle stiffness or weakness, difficulty swallowing, shortness of breath, nausea, diarrhea, stomach pain, loss of appetite, weakness, injection site reactions (muscle weakness, bruising, bleeding, pain, redness, or swelling), fever, cough, sore throat, runny nose, flu symptoms, dizziness, drowsiness, dry mouth, ringing in ears, and increased sweating in areas other than the underarms, drooping of the eyelid (ptosis), inflammation of the cornea (keratitis), eye dryness, itchy eyes, problems with vision, tearing, and sensitivity to light, and eyelid swelling or bruising, trouble breathing, talking, and loss of bladder control. (This is not a complete list of possible side effects)*
Cosmetic Acupuncture (also known as facial rejuvenation or facial acupuncture), when administered by a certified, licensed, acupuncturist can have the same benefits as Botox® without the side effects. Facial rejuvenation acupuncture works on several levels treating the skin, muscles and underlying imbalances, which may be creating wrinkles and/or saggy appearance. To keep your skin healthy and beautiful on the outside, you must work on the inside of your body as well; Increasing the flow of energy, blood and lymph circulation improves the skin's natural healthy color. Cosmetic Acupuncture also can increase the promotion of collagen production, muscle tone and skin elasticity; this helps to firm the skin. Acupuncture's ability to stimulate the formation of body fluids helps to nourish the skin, adding moisture and making it softer, smoother and more lustrous.
Facial Acupuncture not only addresses the outward appearance of the effects of aging, it also can ease stress, depression, worry and frustration, which in turn can cause premature aging.  Regular acupuncture treatment helps to balance hormones, calm overactive adrenal glands, and create a sense of calm. Stress can cause chemicals called neuropeptides to flood your skin and wreak havoc by increasing inflammation, widening blood vessels, and increasing skin permeability. The calming nature of acupuncture also decreases heart rate, lowers blood pressure and relaxes the muscles. Acupuncture improves circulation of blood throughout the body, which brings oxygen to the tissues and clears out cortisol and other waste chemicals.
The needles themselves elicit a healing response to the micro-trauma caused by the needling. Collagen is produced, helping smooth out the wrinkles. Additionally, needles can be placed under muscles through a process called submuscular needling to help relax the muscle belly, and by using special points called motor points, the muscle can be reset to its normal function without the use of any toxic chemicals. The results of acupuncture facial rejuvenation are a more even-toned, healthy, youthful looking skin, a clearer complexion, and a more peaceful state of mind.
The side effects of facial acupuncture are rare and are limited to occasional temporary bruising at the site of needle insertion. The treatments take place over several weeks. Once completed the results can last indefinitely with regular maintenance.
Acupuncture is a safe, viable alternative to Botox injections. Make certain your practitioner has been trained by an AAC certified instructor.
*http://www.rxlist.com/botox-side-effects-drug-center.htm