By Michelle Gellis LAc MAc DiplAc
As a Five Element acupuncturist who teaches facial acupuncture classes nationally, I was surprised to learn that one of the basic principles I was taught in school is unfamiliar to most acupuncturists. Rooted in Five Element Theory, the practice of clearing blocks before initiating treatment is at the core of my facial acupuncture classes. A block is defined as a break in, or impediment to, the smooth flow of Qi. Blocks can prevent treatments from being effective or holding. They must be cleared in order for healing to take place.
There are several types of blocks. They can show up on the pulses as a disparity in the strength of one pulse in relation to another or in the strength of the left side pulses to the right. Other ways blocks can show up are in a patient's affect, physical or emotional well-being, or appearance.
Blocks to treatment can take many forms. They can be energetic such as: Aggressive Energy, Pulse Qualities, and Entry/Exit. They can be Lifestyle blocks such as: Diet, relationships, and substance abuse. Some blocks are structural like a scar. Others blocks to treatment relate to a patients' dependence on the illness for sympathy, or financial reasons.
Blocks vary in severity and significance. Some are dire and require immediate attention such as when the pulses on the right side are greater in quantity and quality then the left (referred to as an H/W), some are less severe and will show up from time to time, like a pulse quality or a spirit block.
One block that I address in every patient is Aggressive Energy (AE). It is created by toxic or polluted energy that moves along the K'O cycle. According to Five Element theory, Aggressive Energy is: "Qi which is contaminated and polluted and whose quality is poisonous and destructive." AE will cause problems within the total energy of the body, mind and spirit (Worsley, 1990). AE must be cleared to prevent its spread to other officials during treatment, hence its clinical significance in Facial Acupuncture. AE can occur after surgery, emotional or physical illness or a variety of other conditions. It is drained through the Yin organs via the Back Shu points. The test for AE is also the treatment; there is no other way to diagnose with certainty that a patient has AE.
The image below shows a patient with AE. Needles are places in the Back shu points (BL13, 14, 15, 18 20, 23) and test needles are placed in each of the three Jiao, if the redness around the needles is different than the test needle, then AE is present and must be drained. If other more severe blocks (such as ID's) are present, AE will not clear until the other blocks have been cleared.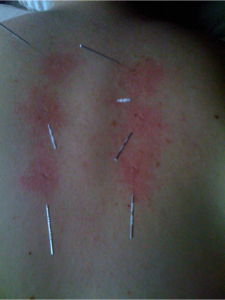 Regardless of the nature and severity of the block, its presence will impede the rate of recovery and the effectiveness of any acupuncture treatment. Without this crucial piece, treatments can progress more slowly and not have as long lasting effect. Learning the theory and treatment of blocks and how they can impede facial rejuvenation and recovery from neuromuscular facial conditions are an integral part of my Facial Acupuncture classes. For more information go to: https://facialacupunctureclasses.com