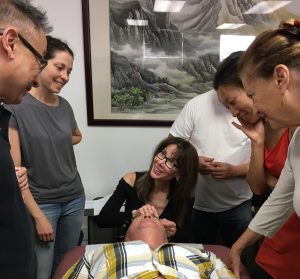 Join Michelle Gellis for in-person, hands-on instruction in facial and cosmetic acupuncture—including use of the AcuLift™ Micropen professional microneedling device. Earn up to 44 CEUs!
Our comprehensive training will equip you with skills that are immediately applicable in your acupuncture practice. Most classes include prerecorded video lectures that you complete before the hands-on day—and have access to after the class so you can watch again and again!
Michelle will be visiting the following cities in 2024:
Hollywood, FL, January 13-14
Sydney, AU, February 2-4
Melbourne, AU, February 9-11
Master Class Palm Desert, CA, March 23-24
Los Angeles, CA, May 11-12
Vancouver, BC, May 18-19
Boulder, CO, June 21-22
Visit our updated hands-on class page for more details.
And, subscribe to our mailing list for the most up-to-date additions to the schedule.