1 hour mentorship class with Michelle Gellis
Monthly, 1 hour online sessions, included with enrollment in Michelle's Advanced Certification Program, and also open to other students for a $30 per class fee. If you are not part of the Advanced Certification program and would like to join a session, email michellegellis@gmail.com for details on how to register.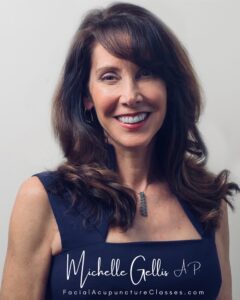 The purpose of this class is to provide you with an opportunity to review and ask questions. Each month we will review the topic corresponding to different recorded webinars:
Jan 30: Introduction & review Module 1—intake, contraindications
Feb 27: Module 2—protocols
March 27: Module 3—face reading, skincare, telemedicine
April 24: Module 4—cupping/gua sha (3:15pm – 4:15pm)
May 29: Module 5—advanced class
June 25: Neuro part 1
July 31: Neuro part 2
August 14: Microneedling
September 18: Safety
October 30: Anatomy of expression part 1
November 27: Anatomy of expression part 2
December 18: Self Care
Each session will be held via Zoom from 12:15pm – 1:15p US Eastern Time, unless otherwise noted.
Advanced Certification Students: Zoom links will be emailed out shortly before each session.
Other Students: To register for a session, email michellegellis@gmail.com for details.