By Michelle Gellis AP MAc LAc DiplAc
Collagen induction therapy or micro-needling works by stimulating the immune system and wound-healing mechanisms. As the micro-needles penetrate the skin causing micro-wounds, it triggers an intense inflammatory reaction that begins a cascade of subsequent reactions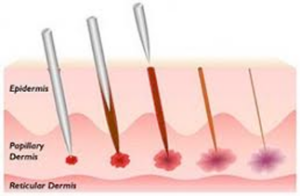 The skin's nerve receptors and defense mechanisms sense these fine needle intrusions as a specific type of injury and heals accordingly.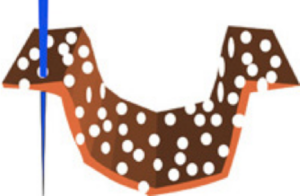 During the healing process, skin cells (within a 1 to 2 mm radius around the pricking channel) release growth signals to undifferentiated cells otherwise known as skin stem cells. These signals also stimulate rapid growth of new fibroblasts and other wound repairing cells.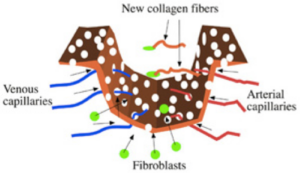 Many cell types including new fibroblasts rush to close the wound by migrating to the point of intrusion. These new fibroblasts then transform into collagen fibers which integrate with existing collagen in the upper dermis.
The new collagen fibers thicken the skin, fill in wrinkles and encourage growth of healthy new skin cells. Clinica studies demonstrate the efficacy of microneedling. In one study biopsies taken from 10 different patients demonstrated an average increase in collagen and elastin fibers of 206% in one case a 1000% increase was recorded. For more information on microneedling go to aculiftskincare.com