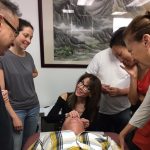 All classes taught by Michelle Gellis, AP LAc DiplAc, internationally published expert in facial acupuncture. The skills taught in these classes will be immediately applicable in your practice.
New for 2021: Hybrid hands-on classes designed with advance instruction to maximize practice time. Also available: livestream-only options and on-demand recorded webinars.
Topics covered include:
Facial Rejuvenation Theory, Technique and Point Selection
Facial Cupping and Gua Sha
Microneedling
Advanced Protocols for treating the face and neck
---
Hybrid hands-on classes:
Michelle Gellis is holding in-person training at the following locations:
| Event | Date | |
| --- | --- | --- |
| San Diego, CA (August 28, 2021) Hybrid Format | | Register |
| Santa Fe, NM (October 3, 2021) Hybrid Format | September 11, 2021 8:30 am | Register |
| Austin, TX (October 9–10, 2021) Hybrid Format | | Register |
| Sarasota, FL (November 7, 2021) Hybrid Format | September 11, 2021 8:30 am | Wait List |
To maximize the time allowed for hands-on practice, the lecture portion is completed before the in-person sessions. When registering, select from two options:
Option 1 – includes recorded webinars
View the recorded lectures and take the webinar quizzes on your schedule, prior to class.
This option earns 22 NCCAOM PDA points, 18 California CEUs, 17 Florida CEUs, 12 Texas CEUs, and Canadian CTCMA credits upon completion of the webinars.
You'll earn an additional 8 CEUs upon completing your in-person practice*.
Option 2 – includes livestream lecture
Attend one of Michelle's two-day livestream lectures, if available – date(s) will vary.
This option will earn 25 NCCAOM PDA CEU points, 25 California CEUs, 25 Florida CEUs, 26 Texas CEUs, and Canadian CTCMA credits in total.
17 CEUs are awarded after livestream. 8 additional CEUs after hands-on.
Additional Details
Cost: $725 ($675 early bird), student discounts available*
Practice session times vary per location – see available times on registration page
Bring a treatment table and receive a free Aculift Derma Roller
NO REFUNDS ON HYBRID CLASSES – if hands-on sessions need to be cancelled due to COVID restrictions, arrangements will be made for you to earn the hands-on CEUs in another manner. You will still earn CEUs for the recorded or livestream portion of the class.
*Hands-on training is for licensed practitioners only, unlicensed students may observe
To sign up click the "Register" link next to the location you wish to attend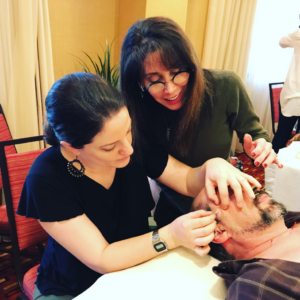 ---
Livestream lectures
Live Zoom webinars held over one or two days depending on topics covered. Does not include Hands-on class.
| Event | Date | |
| --- | --- | --- |
| Livestream – Facial Acupuncture, Cupping/Gua Sha, and Advanced Protocols – September 11–12, 2021 | September 11, 2021 9:00 am | Register |
| Livestream – Facial Acupuncture, Cupping/Gua Sha, and Advanced Protocols – October 23–24, 2021 | | Register |
Details
Cost: varies per livestream, see individual page for details
Early bird and student discounts available
Class times are listed in Eastern time, see individual page for details
All livestream classes earn CEUs, see individual page for details
To sign up click the "Register" link next to the date you wish to attend
---