Facial Acupuncture CEU Certification Class
(This 2 day class does not include Facial Cupping/Gua Sha)
Facial Acupuncture 2 Day Class. Taught by Michelle Gellis AP LAc DiplAc. This two-day CEU class covers Facial Rejuvenation Acupuncture Theory and Acupuncture Needling Techniques and Protocols for Cosmetic Acupuncture. This is a facial acupuncture certification class for the American Acupuncture Council. Hands-on skills such as submuscular and intradermal needling and techniques for needling the scalp, face and body points are practiced in a small class setting.  AcuLifttm Micro-needle Dermal Roller training is part of class. The Traditional Acupuncture Facial Rejuvenation Class has been approved by the NCCAOM for 14.5 PDA points (CEUs), and 14 Florida CEUs and 14 California CEUs. All materials needed for class are included. The skills taught in this class will be immediately applicable in your practice.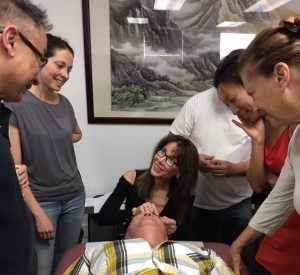 Acupuncture Facial CEU Certification Class provides lectures on: Facial Rejuvenation Theory, Technique and Point Selection, Needling Technique. Paperwork and supplies are included.  The class is a hands on class* with an internationally published expert in facial acupuncture, small class size. Information on aging. You will recoup the cost of this with your first patient.
Facial rejuvenation acupuncture is in high demand. As an acupuncturist, certification in Acupuncture Facial Rejuvenation is required by AAC for Insurance coverage. The class is approved by the American Acupuncture Council. Some of the benefits of Acupuncture Facial Rejuvenation are that it can erase fine lines, lift sagging eye lids, reduce bags/circles, firm jowls and double chin, can tighten pores and is beneficial for Rosacea. Facial Rejuvenation Acupuncture increases collagen production, improves hormonal balance, benefits acne, and increases circulation of blood and lymph to the face.  The treatments also promote overall health and well-being.
Facial Acupuncture two day class includes:
Lectures on Facial Rejuvenation Theory, Technique and Point Selection
Paperwork (forms, contracts etc) necessary to get started
Supplies needed to practice in class
*Hands on training (for licensed practitioners, students may schedule hands on for a later time)
AcuLift™ Derma Roller Training
Cost: $575 for practitioners
Early Bird Price: $525 for practitioners
Save $50 if you register by the early bird date.  Early bird registration cut off dates are different for each class, please see class registration form for details.
*ADD FACIAL CUPPING AND GUA SHA CLASS FOR $75 (HALF DAY-AM)*
*ADD ADVANCED CLASS FOR $75 (HALF DAY-PM)*
Unlicensed Students: Use coupon code "student50" when registering, and get $50 off the price of the class.
MICHELLE GELLIS AP LAc DiplAc has been teaching at the Maryland University of Integrative Health since 2004
This Acupuncture Facial Class has been approved by the NCCAOM for 14.5 PDA points (CEUs), and 14 Florida CEUs and 14 California CEUs
NOTE: Cancellation Policy for Live Classes and Live Webinars:
15% cancellation fee up to 30 days prior to class
50% cancellation fee up to 14 days prior to class
NO REFUNDS THEREAFTER – NO EXCEPTIONS
Facial Acupuncture CEU Classes
"Great time, great content and presentation.  Did not feel rushed or pressured."-