Event Phone: 443-980-5047
Notice for Live Classes: All hands-on classes require N-95 or higher mask floss, proof of vaccination, or negative Covid test less than 72 hours old.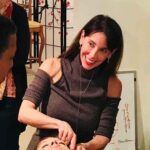 Join Michelle Gellis at the Academy of Chinese Culture and Health Sciences in Oakland, California for hands-on training* and earn facial acupuncture CEUs. This is a three-day intensive class including lecture and hands-on practice for licensed acupuncturists*. See class descriptions here. Please note that this class is for licensed acupuncturists, acupuncture students and medical doctors who have been trained in acupuncture, not individuals only trained in "dry needling".
*Hands-on training is for licensed health practitioners only, unlicensed students may observe.
Class is qualified for CEUs! 26.5 NCCAOM PDA CEU points, 26 California CEUs, 26 Florida CEUs, 26.5 Texas CEUs, and Canadian CTCMA credits
Topics covered include facial rejuvenation acupuncture, facial cupping, gua sha, Chinese medicine and the AcuLift™ dermaroller. The acupuncture techniques you learn will be immediately applicable in your practice!
Registration starts at 8:30 AM (PST) each day, and class runs from 9:00 AM to 5:00 PM. Please note, times are in Pacific Standard Time.
Unlicensed students: Save $50 with code "student50".
Bring a treatment table and receive a free Aculift Derma Roller.
Please note: Credit card payments are processed through PayPal, but you do not need a PayPal account to register. All major credit cards are accepted.
Cancellation policy:
15% cancellation fee up to 30 days prior to class
50% cancellation fee up to 14 days prior to class
ABSOLUTELY NO REFUNDS within 14 days of class – if you cannot attend, you have the option of transferring your registration to another live class venue.
Address:
1600 Broadway
, Suite 200,
Oakland
,
California
,
94612
,
United States
Facial Acupuncture CEU Certification – 2 Days
November 12, 2021 - November 13, 2021
Facial Cupping/Gua Sha CEU – Day 3 AM
November 14, 2021
Advanced Techniques CEU – Day 3 PM
November 14, 2021 - November 15, 2021