Event Phone: 443-980-5047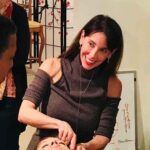 Join Michelle Gellis at the Courtyard Old Town in Scottsdale, Arizona for hands-on training and earn facial acupuncture CEUs. Sign up for the core 2-day class only, add the morning and/or afternoon class of day 3 for a more comprehensive experience, or sign up for one or both of the day 3 classes only. See class descriptions here.
All classes are qualified for CEUs!
Comprehensive (all 3 classes): 26.5 NCCAOM PDA CEU points, 26 California CEUs and 26 Florida CEUs
Facial Acupuncture Certification: 14.5 NCCAOM PDA CEU points, 14 California CEUs and 14 Florida CEUs
Facial Cupping/Gua Sha: 7 NCCAOM PDA CEU points, 7 California CEUs and 7 Florida CEUs
Advanced Techniques: 5 NCCAOM PDA CEU points, 5 California CEUs and 5 Florida CEUs
Topics covered include facial rejuvenation acupuncture, facial cupping, gua sha, Chinese medicine and the AcuLift™ dermaroller. The acupuncture techniques you learn will be immediately applicable in your practice!
Registration for the 2-day class starts at 8:30 AM each day, and class runs from 9:00 AM to 5:00 PM. On day 3, for students not attending the weekend, registration starts at 8:00 AM and class starts at 8:30 AM.  For students who attend the weekend, day three registration starts at 9:00 AM and class begins at 9:15 AM. The morning session runs until approx 1:15 PM, and the afternoon session runs 1:30 PM–5:30 PM.
Unlicensed students—discounts available:

Save $50 on the 3-day Comprehensive or 2-day Facial Acupuncture certification class with code "student50".
Only attending Facial Cupping/Gua Sha and/or Advanced Techniques class? Use code "student25" to save $25 on your registration. FOR FACIAL CUPPING/GUA SHA CLASS: ONLY CURRENT ACUPUNCTURE STUDENTS GET STUDENT DISCOUNT.
Only one discount per student.

Bring a treatment table and receive a free Aculift Derma Roller.
Please note: Credit card payments are processed through PayPal, but you do not need a PayPal account to register. All major credit cards are accepted.
Cancellation policy:
15% cancellation fee up to 30 days prior to class
50% cancellation fee up to 14 days prior to class
ABSOLUTELY NO REFUNDS within 14 days of class – if you cannot attend, you have the option of transferring your registration to another live class venue.
---
The Scottsdale acupuncture CEU classes offer the following options:
(See "Details" below for pricing of each combination.)
Facial Acupuncture CEU Certification – 2 Days
February 8, 2020 - February 9, 2020
Facial Cupping/Gua Sha CEU – Day 3 AM
February 10, 2020
Advanced Techniques CEU – Day 3 PM
February 10, 2020