Event Phone: 443-980-5047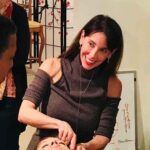 Join Michelle Gellis at the Calgary Marriott Downtown August 28–29 for hands-on training and earn facial acupuncture CEUs. Lecture portion will be accessed prior to class. Class will follow CDC guidelines, with limited attendance to allow for smaller hands-on sessions.
Class includes Facial Acupuncture, Cupping, GuaSha, and advanced class, plus two hands-on practice sessions. You have two options for viewing the lecture portion of the class, either through recorded webinars or a live webinar. You must complete the lecture portion before you can practice needling.
All supplies included except facial cupping and gua sha kit – you must use Michelle's cupping/gua sha kit – purchase wholesale from aculiftskincare.com
Registration options:
Option 1: Recorded Lecture (on-demand)
You will receive the recorded webinars upon registration, they can be viewed on your schedule and should be completed prior to August 28.
Recorded webinars include a short quiz, you will receive a portion of your CEUs upon completing each quiz.

Recorded webinars earn

22 NCCAOM CEUs, 18 California CEUs, 17 Florida CEUs, 12 Texas CEUs, and Canadian CTCMA credits.

You will earn an additional 8 CEUs (pending) upon completing your hands-on sessions on August 28–29.
Option 2: Livestream Lecture (May 15–16 or July 10-11)
You will be enrolled in the May 15–16 or July 10–11 livestream class.
You will earn your CEUs after you attend your hands-on sessions on August 28–29.

This option will earn

26.5 NCCAOM PDA CEU points, 26 California CEUs, 26.5 Florida CEUs, 26.5 Texas CEUs, and Canadian CTCMA credits.
---
Class is qualified for CEUs!
Cost: $675 early bird until July 27, then $725
Unlicensed Students: Use coupon code "student50" for $50 off.
Detailed class description: Comprehensive Facial Acupuncture CEU Class
Practice sessions are Saturday and Sunday, choose which two you prefer:

AM sessions runs from 9:00 am – 12:30 pm (Mountain Time)
PM sessions run from 1:30 pm – 5:00 pm (Mountain Time)

Bring a treatment table and receive a free Aculift Derma Roller.
Registration notes:
Credit card payments are processed through PayPal, but you do not need a PayPal account to register. All major credit cards are accepted.
If you do not currently have an account with us, one will be created for you at checkout. You will receive two emails: one requesting you to set your password, and another with your registration receipt. Please check your spam folder. Once you have your password set, visit the My Account page to view your recorded webinar content.
Cancellation policy:
ABSOLUTELY NO REFUNDS ON HYBRID CLASSES – if the hands-on session needs to be cancelled due to COVID restrictions, arrangements will be made for you to earn the hands-on CEUs in another manner. You will still earn CEUs for the recorded or livestream portion of the class.
---
To enroll in the Calgary, AB Acupuncture CEU class:
YOU MUST SELECT ONE of either the Recorded option, May 15-16 Livestream option, or July 10-11 Livestream option below to register, PLUS TWO desired practice times. Incomplete/ineligible registrations will be canceled.
May Livestream Lecture Day 1
May 15, 2021
May Livestream Lecture Day 2
May 16, 2021
July Livestream Lecture Day 1
July 10, 2021
July Livestream Lecture Day 2
July 11, 2021
Facial Acupuncture CEU Certification
August 28, 2021 - August 29, 2021
Hybrid Class Hands On Session Sat AM
August 28, 2021
Hybrid Class Hands On Session Sat PM
August 28, 2021
Hybrid Class Hands On Session Sun PM
August 29, 2021
Hybrid Class Hands On Session Sun AM
August 29, 2021